Types of Trolley Used in Hotel Food and Beverage Service
1. Carving Trolley
2. Cheese Trolley
3. Dessert Trolley
4. Fruit Trolley
5. Gueridon Or Flambe Trolley
6. Hors D' Oeuvre Trolley
7. Liquor Trolley
8. Room Service Trolley
9. Salad Trolley
10. Wine Trolley
1. Carving Trolley:
It is used for carving Joints of meat of guest's table. The main function of carving trolley is to act as an aid to selling. The Carver also was known as the trancheur is responsible for the carving done at the buffet table and on the carving trolley. The carving trolley is set up with two methylated spirit lamp & in lower shelf carry the service plate, Joint plate & carving Knife.
---
2. Cheese Trolley: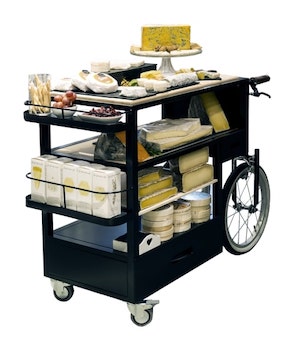 Cheese in European countries is an important part of a meal in the classical tradition. Gourmet restaurants still offer this as a cutting edge in their service. When an extensive variety of cheese is to be promoted, the mobility of a Cheese trolley offers obvious advantages. A simple two-tier cart is suitable: the top for display and serving, the lower for mise en place.
---
3. Dessert Trolley:
The dessert trolley serves as a visual aid to selling desserts. Guests are more likely to order a dessert if the guest can see what is available, particularly if it is well presented.
a) For Sweet items (entremet sucrees) - these are often simple, two-shelved trolleys. They can also be fitted with a top display shelf for a board inset and a transparent, hinged showcase cover. If ice-cream or sorbets are carried and chilling is needed, ale cart may incorporate steel tub inserts, or an ice well or a eutectic plate (capable of holding its temperature for up to 4-5 hours alter removal from the freezer). Some trolleys may have a mini-refrigerator compressor powered by a battery built in the top giving up to 24 hours operation. In any case, mains connection with trailing leads is better avoided.
b) For Pastries (patisseries) - The pastry trolley usually Consists or a fibre-glass top that enables the guest to see what is on offer. The surface of the trolley displays the cakes, gateaux and pastries. 1be bottom shelf is used for the storage of cutlery such as pastry tongs and pastry forks and crockery.
---
4. Fruit Trolley: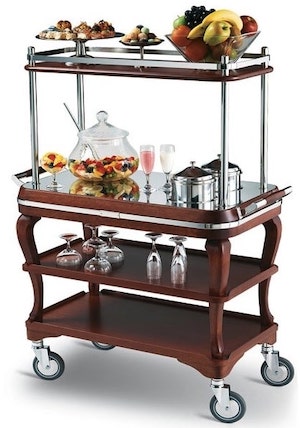 Guests may like to round off their meals with fresh fruits. This applies especially to diet-conscious guests who may opt to eat only salads and fruits. Restaurants recognize the health-conscious and have a trolley for this niche public. The server will volunteer to cut the fruits into manageable portions and serve in the respective service ware.
---
5. Gueridon Or Flambe Trolley:
A guéridon trolley or Flambè Trolley is a small mobile trolley that holds a portable heating unit called réchaud to serve flambéd dishes that can be placed alongside the guest's table. The trolley consists of one or two burners, a gas cylinder and work and storage, space for plates and cooking equipment.
Using this trolley, the food is flambéed at the guest's table. To flambé, food means to cook it at the guest's table. The food is flambéd with the addition of spirit before it is presented to the guest. Almost any food can be flambed but the more popular; items that are flambéd are fish, meat, fruit and desserts. Only skilled and well-trained waiters or chef called the 'chef du rang' are allowed to handle this service as there is a high risk of spoiling food by overcooking it, and carelessness can also cause a fire on the premises.
---
6. Hors D' Oeuvre Trolley:
Hors-d' oeuvre is of spicy in nature in order to stimulate the appetite for the dishes that are to follow in the course. Served from a rotating trolley or a tray a small amount of each variety being placed on the plate to make up a portion. Hors d'oeuvre is the first course of a french classical menu usually consisting of a selection of small Items of egg, fish, meat, fruits, and vegetables in pungent (sharp) dressings.
---
7. Liquor Trolley or Liqueur Trolley or Beverage Cart:
A liqueur trolley is one that is an additional attraction in a gourmet restaurant that follows the classical menu preparations. The sommelier would be in charge of this trolley as well.
Trolleys for spirits, liqueurs and aperitifs display branded bottles standing in wells or ringed enclosures on the uppermost shelf of the trolley to prevent toppling when the trolley is moved around in the restaurant from table to table.
---
8. Room Service Trolley:
This trolley is known for its versatility. It is used for the service of a large order to guests in their rooms. The waiter sets up the meal and covers on the trolley and wheels it into the guest's room. This trolley may also be used as a dining table in the Privacy of the guest's room.
---
9. Salad Trolley:
Salads have become an important course nowadays because of an ever-increasing health-conscious have exclusive salad public. This change in guest preferences has prompted many restaurants bars dedicated to this public.
Salad trolleys usually hold a variety of individual salad ingredients and a variety of dressings which the guest will mix and match to create a salad of high fibre choice that will be prepared by the service staff at the trolley.
---
10. Wine Trolley: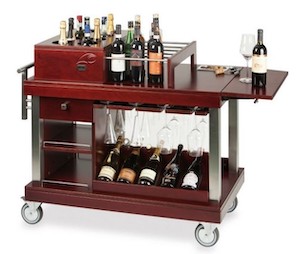 Wine service is important for its revenue potential. The wine trolley stocks and displays wines and spirits and is wheeled to the guest table to stimulate liquor sales. The trolley service is provided in gourmet restaurants and the person who provides this service is a qualified wine butler or sommelier.
---