Different Types of Containers, bins and Trolleys used in Housekeeping
For the smooth day to day operations housekeeping staff should be given appropriate containers, bins and trolleys in order to carry, transport, collect different items.
Below are some list of such items required for efficient and easier housekeeping jobs.
Regular Buckets:
Normally made out of plastic or galvanised iron. Being lighter in weight, quieter to use and easier to clean plastic buckets are widely popular and commonly used in housekeeping.
Another variety of buckets have two sections one for rinsing and another attached with a wringer device, It is important that the wringer device can be detached for easy cleaning and maintenance.
Twin buckets:
Twin buckets are placed on a low trolley which is fitted with brushes to rinse more effectively each time. Larger buckets should have castor wheels and these wheels must be kept free of hair, fluff and dust.
Buckets should be thoroughly washed after each use, while washing them wash inside out then allow to dry before storing them in the appropriate place.
---
Dust pan: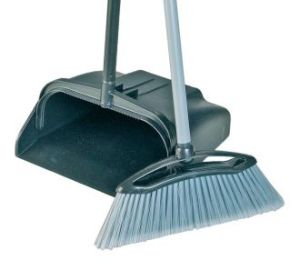 These are used along with a broom or brush for gathering dust. They are normally made of either plastic or metal, being durable and less expensive plastic dust pans are the usual choice these days.
Dust pans with long handles that eliminate stooping are ideal choice. In order that the dustpans are effective, the edge in contact with the floor must be thin, sharp and flat. 
Always empty the dustpans after each use and wash and dry then as and when required. While storing make sure that they are not resting on their flat edge, as it will wear out and warp so that the pan becomes inefficient.
The Ideal way to store dustpans is by suspending them from a hook or lying horizontally, sideways.
---
Different types of Dustbins :
Dustbins for guestrooms: 
These bins may be made of plastic or wood. Some properties also use jute or wicker bins. Individual dustbins in guestrooms may be lined with a disposable inner lining made of recycled paper or plastic.
Guestroom waste bins must be emptied and wiped daily. They must be washed and dried as and when require normally once in a week.
Dustbins for service rooms or floor pantry: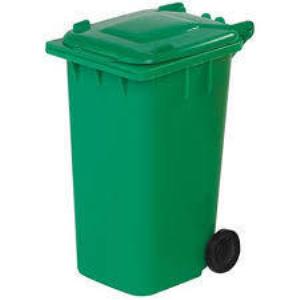 These are used to collect waste from guestrooms, brought in by the room attendants' carts. The carts contain a sack called the trash bag for guestroom trash.
Floor pantry should have 2 types of bins, A metal bin for disposing of ash from guestroom ashtrays and a plastic or thick paper bin for other types of trash. 
Dustbins for public areas :
These bins may have a creative design since they are constantly on view. They should be emptied daily and kept neat & clean from outside all the time.
Dustbins for waste-collection areas:
These are usually located outside the main building and are hidden from view. These bins should be kept covered and emptied at least every alternate day.
Sani-bins:
These are metal or plastic bins with lids. They are found in toilets for the collection of soiled sanitary pads / napkins. They should be lined with plastic or paper bags for easy cleaning. The bins must be emptied and wiped daily for hygienic reason.
Disposable paper bags (sani-bags) should be provided in the guests' toilets for wrapping sanitary pads, before disposing in the sanitary bins.
---
Spray bottles:
These are lightweight containers that deliver a fine mist or cleaning solution through a fine nozzle, particularly used for spray cleaning. It is essential that the nozzle is properly adjusted and free from any blockage.
The nozzle must be kept clean, by spraying clean, pure water through it after every use.
---
Mop-wringer trolley:
This piece of equipment consists of mop and one or twin buckets with an attached wringer all mounted on a trolley with wheels. It may have a provision for holding cleaning agent as well as a trash bag.
Linen trolley:
These are used for the transfer of clean linen from the laundry to the linen room or from the linen room to the floor pantries.
Hand caddies:
Also called 'cleaners' boxes', these were originally made of wood or metal but are nowadays usually made of plastic. They consist of a box with a handle and fitted tray.
They are used by room attendants for carrying cleaning supplies from room to room for guestroom cleaning. After each shift, they must be cleaned and topped up with replacement supplies for use in the next shift.
Carts and trolleys:
These are more useful than hand caddies when a large amount of supplies and items are to be carted or replaced. They are ideal for the efficient removal and carriage of smaller pieces of cleaning equipment, cleaning agents, linen and rubbish.
Such carts and trolleys eliminate the time wasted in assembling equipment at the work location or moving them from one place to another.
---
Maid's cart / Room attendant's cart: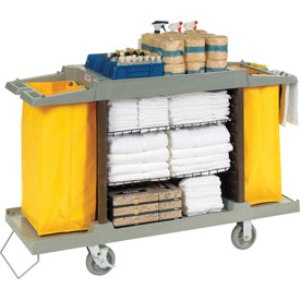 Maids card is one of the most important equipment used by the housekeeping room attendants for their daily cleaning activities.
Also called a room attendant's trolley, maid's cart or chambermaid's trolley, this is perhaps the most significant piece of equipment in the housekeeping department. It is like a giant tool box; stocked with everything necessary to service a guestroom effectively. Note: Trolley and Maids carts Setting.
These carts are made of metal or wooden frames with multiple wooden partitions and shelf's. The cart should be spacious enough to carry all the supplies needed for a Room Attendants to complete half a day's room assignments.
Since the cart is large and may be heavily loaded, it must be easily manoeuvrable and fitted with wheels at one end and castor-wheels at the other. The cart should be well organised so that the HK staff do not have to waste time in searching for supplies or make frequent trips back to the supply room.
---