What is the Definition or Meaning of OTA and its relevance to the Hospitality Industry?
OTAs stand for Online Travel Agency or Online Travel Agents. In general Online Travel Agents are third party internet / online bookings or reselling sites which primarily sells hotel rooms, tours, flight tickets, car rentals, vacations, cruise, local experiences etc.
They cover virtually every aspect of researching, planning, and booking travel, from choosing the best aeroplane seat to reading personal travel reviews of hotels, to planning what to do in a destination once you arrive.
As the use of the internet had increased many times over the years a large number of consumer-oriented systems like OTA have become available right in the guests mobile or any devices that have access to the internet.
Synonyms for OTA are IDS - Internet Distribution Systems, Online Booking Channel, Online Channels, ADS - Alternative Distribution Systems.
Examples of Major OTAs - Online Travel Agency are:
Expedia Group - Expedia.com, Hotels.com, Vrbo.com, HomeAway.com, Orbitz.com, Travelocity, ExpediaCruises etc.

Priceline Group - booking.com, agoda.com, priceline.com, kayak.com, RentalCars.com, Opentable.com

Airbnb - Airbnb Rentals, Airbnb Experiences.

TripAdvisor - TripAdvisor.com, flipkey.com

MakeMyTrip - MakemyTrip.com

ClearTrip - Cleartrip.com

Hostel World - Hostelworld.com

Late Rooms - LateRooms.com

Last Minute - Lastminute.com

Ctrip - Trip.com

Skyscanner - Skyscanner.com

Kiwi - Kiwi.com

Hotwire - Hotwire.com
Advantages and Disadvantages of using OTAs in Hotels:
OTA's are like two-edged swords for hotels. On one side, they offer exposure and provide more bookings but on the other hand, these third party booking websites offer much lower rates than the hotels own website.
How does OTA's Make Money?
The OTA's charges the hotel commission for each booking which is generated from their website. These commission rates may vary per each OTA. For example, expedia.com may charges a commission between 15% to 30% per bookings, whereas booking.com charges from 10% to 20% for each booking.
Also, the geography of the hotel where it is located also plays an important role in these commission charges by the OTAs. Example hotels which are located in the city may attract more commission percentage than those located in the outer city or remote areas.
---
OTA Commission Payment Procedure For Hotels:
Pre-Paid OTA Commission - Some OTA's collect the full rental or booking amount in advance from the guest at the time of generating the online booking, and then the payment after deducting the commission is later credited to the hotel's bank account.
Post-Paid OTA Commission - In this case, the commission statement is sent to the hotel after each month-end for payment. This commission statement or invoice will consist of the guest details who had booked from their respective OTA.
Sample OTA's Monthly Commission Statement: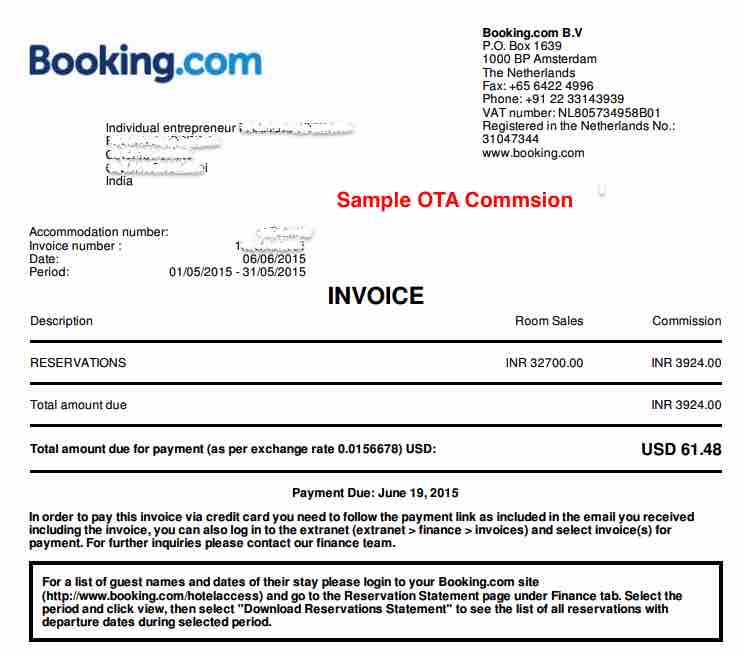 ---
How do hotels connect or manage their inventory on OTAs?
Method 1: Login and manage inventory directly on each OTAs Portal.
As there are many OTAs and each of them has their own portal to manage inventory and rates. It is indeed a tedious and time-consuming job to manage your hotel's inventory on all these OTA's.
Method 2: Use a Hotel Management Software with an OTA connection.
Nowadays a with the help of new-age hotel management software / PMS - Property Management System hotels can also automatically update your hotel's availability in real-time on all sites when a booking is made when you close a room to sale, or when you want to make bulk changes to your inventory.
Method 3: Use a third-party Channel Manager
To ease the job of hotel revenue staff/managers there are third party software called as 'Channel Manager', which will allow them to sell all their rooms on all connected OTA sites, GDS Channels, Wholesalers, Hotels own website etc. at the same time.
---
How hotel details are pushed/pulled by OTA's?
Hotels send their ARI - Availability, Rate and/or Inventory to the connected OTA's, this is done with the help of a hotel management software or a channel manager.
The ARI is sent in a standard XML format, below you can see a sample XML document.
---