Standard Layout of Room Service / In-Room Dining (IRD)
Majority of the lodging properties provide their guest with the opportunity to order and enjoy food in the privacy of their own rooms. It is one of the most popular types of food service and also very expensive for the hotel to provide this type of service, because of the fact that a great deal of time and cost is involved in serving customers in their rooms, particularly if a full meal service is offered, for this reason, most hotels only offer room service with a limited menu selection instead of the full menu choice.
Ther IRD menu offered is normally a mix of items served in the hotels coffee shop or any other speciality restaurant. The ordered food or beverage reaches the guest room either in a tray or on a room service trolley. The soiled cutlery and crockery are cleared from the room after either the guest calls up the Room Service and asks them to do so or the steward checks with the guest at the time of serving the order. This type of service is preferred by the guests who do not want to visit the restaurant or any other outlet for having his meals.
The Room Service is often situated next to the kitchen and with easy access to the service elevator. In this way, hot preparations can be served as fast as possible. Inside the room service department, the following main areas or sections are found; Also, find below diagram which represents the standard layout of Room Service or In-room Dining Department 
IRD Manager Cabin

Order Taking Office/ Desk

Order Preparation or Tray setup area

Working station

Toaster

Sink

Coffee / Tea machine

Products shelves (cereals, sugar, costers, liners straws etc.)

Tray shelf

Trolly Area

Refrigerator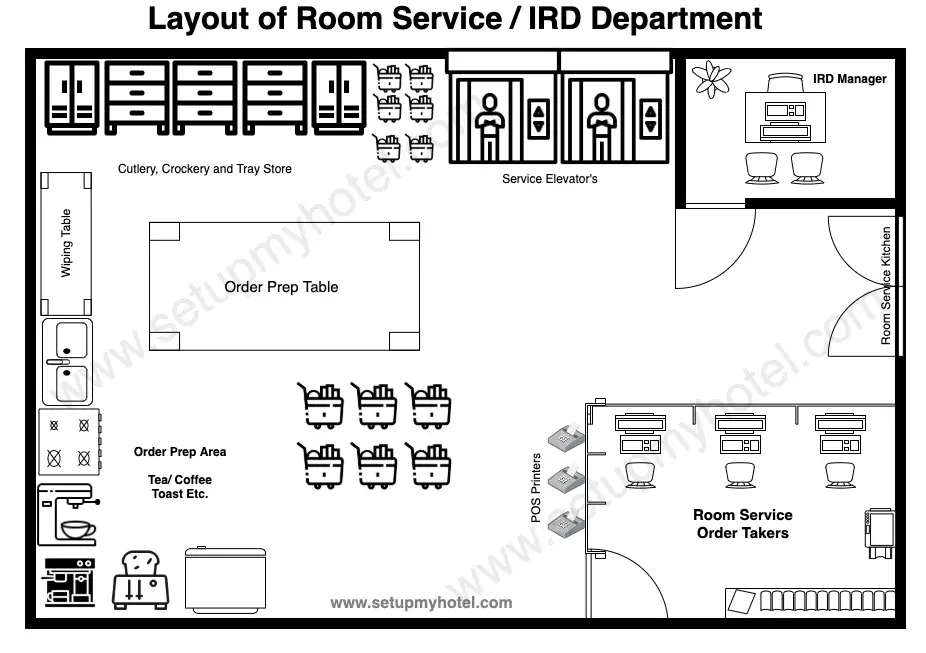 ---