Minibar bill format and posting procedure
Minibar bill should contain details of the articles placed inside the minibar with the price and quantity of the items. 
Studies show that placing Minibar bills or card in the room will speed up the guest check out procedures because at the time of guest departure guests can fill this up and handover to the cashier for posting the charges to his bills quickly. As compared to the normal process where the cashier informs the IRD or housekeeping department to check the minibar consumption.
Nowadays there are automated Minibar systems in the market which has inbuilt sensors on to it, So once the items are removed from the minibar the charges are automatically posted to the guest folio.
Even with all these automated systems in place still minibar charges are the most disputed charges by the hotel guests, usually, the front desk staff are allowed to post allowance for minibar charges if there is a guest dispute.
Sample Format of Minibar Bill used in the hotels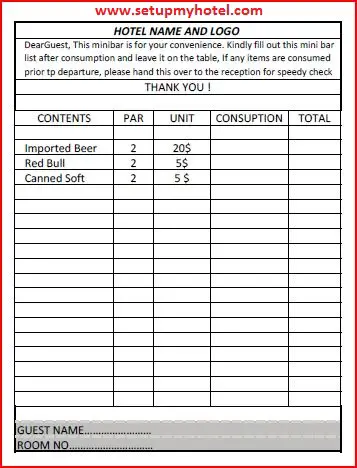 ---