Type of Window Curtains / Window Treatments Used in Hotels
Window treatments are used to control various functions of the guest room windows. They not only add beauty but also add character to the hotel guest room window.
Window treatments in the hotel can be divided into two major types 1) Stiff Window Treatments and 2) Soft Window Treatments.
Stiff Window Treatments:
Window Blinds
Window bling is a type of window covering which is made with slats of fabric, wood, plastic, metal or other materials. In order to open and close such type os blinds a knob is turned which in turn closes it by overlapping the slates.
Types of window blinds used in guest rooms:
1) Roller Blinds:
Gives plenty of light when drawn up.
Gives full privacy when unrolled.
Made of thick fabric used in conjunction with rollers.
2) Roman Blinds: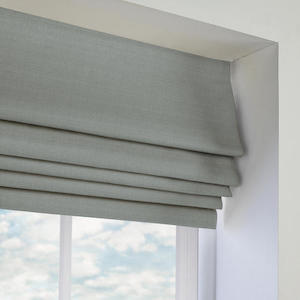 Made of Fabric attached to the cord.
When pulling up, it rises in leats to form pelmet.
Are heavier and warmer than roller blinds.
3) Venetian Blinds:
Originated from the Chinese region.
Parallel slats of wood, metal or plastic aligned horizontally or vertically.
Gives a good view and light.
Such types of blinds are difficult to clean and attract dust.
4) Pinoleum Blinds:
Inexpensive Covering for guest rooms with larger windows.
Made from fine strips of wood held together by cotton.
It lets light to pass through.
May be mounted on spring operated roller or moved up and down by cords.
5) Vertical Louver Blinds: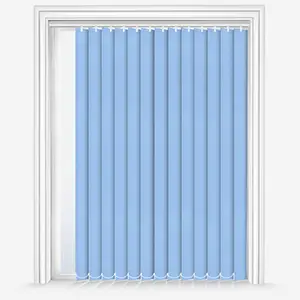 Most effective for guest rooms with floor to ceiling windows.
Works on the same principle as the Venetian blinds except that the close across rather than down.
The slats are wider then Venetian blinds but less opaque.
6) Balasore Blinds: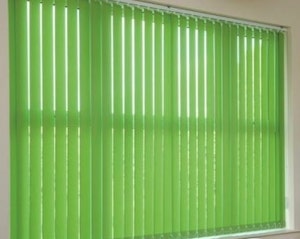 These are Inexpensive blinds made of strong paper fibre.
These are perforated with small holes to let the light through without glare.
It is accordion-pleated to act like a folding blind.
7) Pleated Blinds:
Made from stronger paper than Balasore and have smaller pleats.
It gives privacy but lets sunlight through which is filtered and tinted the colour of the paper.
There is much colour of pleated blinds in which orange, green, blue etc. are common.
8) Austrian Blinds: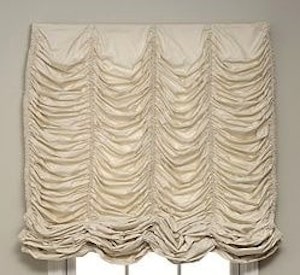 These are ruched fabrics trimmed with gathers.
Commonly use for banquet halls, lobby or coffee shops with a large window.
It may be used partially raised and when fully raised such type of blinds form a decorative pelmet.
---
Window Shades
These are similar to window blinds but does not have slats but comprises a single piece of material that can be rolled to control the degree of various functions of the window. Such types of blinds are powered by a motor or can be controlled by hand as well.
1) Bamboo and Woven Wood Shades:
Slatted Shades let through some light and air, and allow outwards only visibility in the day time.
They block the inward view at the same time depending on the tightness of the weave or the size of the slate.
2) Fabric Roller Shades:
Decals or stencilled patterns on roller shades give interesting look on to the windows when the light filters through the design.
Such type of shades are Inexpensive and can be flexibly adjusted to cover as much as windows as required at a particular time.
Can be translucent, letting in some light or completely opaque.
Available in many colours, texture and patterns.
---
Window Shutters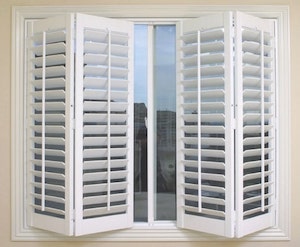 Shutters are made up of moveable wooden slats fixed in a wooden frame.
Shutters provide privacy to an extent and light control.
The initial cost is high but it lasts indefinitely or highly durable.
---
Window Screens
There are two types of screens which are used very commonly 1) Shoji screens and 2) Window screens
1) Shoji Screens (Japanese):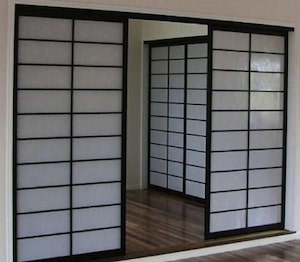 Shoji screens are made from hardboard panels with cut out panels of fabric stretched across the wooden frame.
Originally such shades are made from rice paper mounted on a wooden frame coated with black lacquer.
Such type of shades is now available in translucent plastic material.
2) Window screens:
Window screens are commonly called as insect screen or bug screens.
The mesh is either made out of metal, fibreglass, plastic or other synthetic materials.
The mesh is then stretched in a frame of wood or aluminium to cover the opening of the window.
Such type of screen is primarily used to keep away an insect, leaves, debris, birds, and other animals from entering a building while permitting fresh air-flow.
---
Soft Window Treatments
Curtains:
A curtain is a piece of cloth intended to block or obscure lights, or drafts or water in the case of a shower curtain, and they fulfil several important functions.
1. Cloth Curtains:
Curtains give flexible control over privacy, heat and light.

Curtains soak up the noise in proportion to the area they cover, the thickness of the fabric and the depths of the fold.

They can add colour and pattern to the decor of the guest room or hotel public area.

Curtains cover bareness and furnish a guest room even without the need for expensive furniture.

Curtains can change the apparent size of the hotel guest room or can also be used to conceal any architectural flaws.

Curtains contribute more to the atmosphere of the room than any other item of furnishing.

Plain, Heavy curtains falling down to the floor can be used to create a formal setting.

Short curtains made of light, brightly patterned fabrics are used to create an informal, relaxed atmosphere.

Curtains give flexible control over privacy, heat, light and also to reduce noise levels to an extent.
2. Glass Curtains:
These are also called sheer or net curtains and are made of cotton or polyester.
They are appealing in the light pastel shades.
3. Sash Curtains: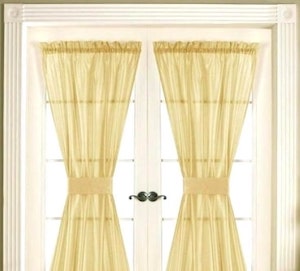 These are the type of glass curtain hung on the window sash.
They can be stretched taut between the rods along with the top and bottom of the window sashes or hung in loose folds.
4. Draw Curtains: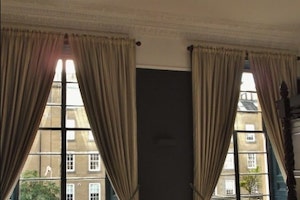 Made of translucent or opaque fabrics and are mounted on traverse rods.
In earlier days they were used between glass curtains and draperies, but these days they are more often used alone.
5. Tie Backs:
Either one panel can be tied back to one side or both the panels can be tied back to the two sides.
A pair of curtain looped back makes a window seem much narrow than a single curtain tied back.
Preferable be tied just below or above the midsection of the window.
The higher the tie back the taller the window appears.
6. Criss Cross Curtains/Priscilla:
Area a variation of the tie-back type.
Curtain panels overlap each other at the top along the entire width of the window and the criss-cross each other when they are tied back.
Make a window seem wider.
7. French Cafe curtains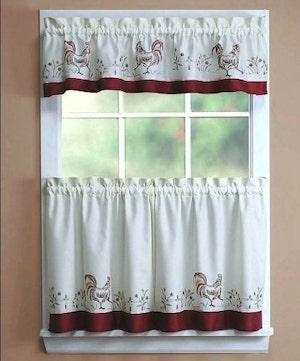 Covers only the lower part of the window.
Provides privacy at one level and light at another.
These are ideal for an informal setting.
8. Roll-Up Curtains: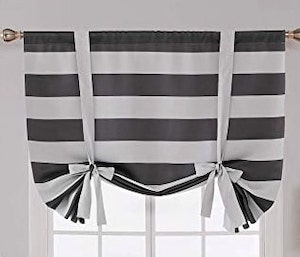 These are shades made of a sturdy fabric and lined with a contrasting fabric.
Shades can be rolled or unrolled to the desired position and held in the palace by means of the sash.
When rolled up, the contrast coloured lining and top fabrics are shown off together.
9. Fold Back Curtains: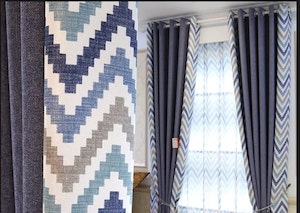 These are made up of sets of two double-sided shades hung across the entire width of the window on double curtain rods.
They are then folded back to expose the contrasting under the panel and each panel is tied back.
---
Dparery
A drapery refers to a loosely hung soft furnishing.
These are made of heavier fabrics.
Drapers are normally lined with another lining fabric.
The heading is usually pleated.
1. Straight hung drapes: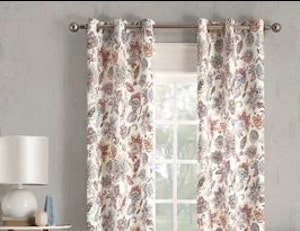 These can be used with balance or cornice, but the window will seem taller without a decorative heading.
2. Panel Draped:
These type of drapes only cover the side of a window area and normally used in staircase etc.
---
Pelmets and Cornices:
Cornices are box-like shapes used at the top horizontal portion of the drapery treatment to hide the poles and other hardware.

The width of cornices should be little less than one-eighth of the overall length of the floor length drapery.

They should be made of wood, plastic or mirrored glass.

Wooden cornices are the most frequently used.

Wooden cornices are finished with paint or polish as per the room's decor.

Sometimes the covering is edged in brass nails.
Swags and Cascades:
Swags are decorative drapery treatments meant to hide the curtain headings and usually taper to be a cascade.
Valances:
Valance is a form of window treatments that cover the uppermost part of the window and can be hung alone or paired with window blinds or curtains.
They should never exceed one-sixth of the height of the window and should be about 10-12 inches in depth.
---