List of Laminated Pastries and Puff Pastries with Recipe Card
Laminated dough is a culinary preparation consisting of many thin layers of dough separated by butter, produced by repeated folding and rolling. Such types of dough are referred to as the pastry of a thousand leaves and they are also called puff pastry.
And its rich and crisp layers are light enough to be airborne and its a flaky miracle of levitation. The rising of puff pastry is truly a magical performance which requires a number of steps. During baking, water in the butter vaporizes and expands, causing the dough to puff up and separate, while the lipids in the butter essentially fry the dough, resulting in a light, flaky product.
Below are a few examples of laminated or puff pastries:
1. Puff Pastry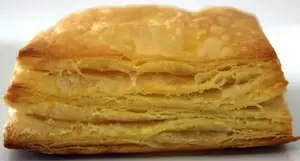 Preparation Method:
   Ingredients for 1.4 kg of Puff Pastry
Description
Qty
Unit
Flour
0.600
kg
Salt
0.016
kg
Lime juice
0.030
ltr
Water
0.200
ltr
Softened Butter
0.450
kg
Flour
0.18
kg
---
2. Apple Strudel
Preparation Method:
   Ingredients for 1600 gms dough of Apple Strudel
Description
Qty
Unit
Vanilla Sponge crumbs
0.2
kg
Apples
0.236
kg
Raisins
0.15
kg
Cinnamon powder
0.004
kg
Strudel dough
0.3
kg
Melted Butter
0.2
kg
Icing Sugar
0.05
kg
---
3. Inverted Puff Pastry
Preparation Method:
   Ingredients for 7 kg Inverted Puff Pastry
Description
Qty
Unit
Four
2.100
KG
Salt
0.080
KG
Vinegar
0.015
LITRE
Water
1.000
LITRE
Melted butter
0.650
KG
Butter
2.250
KG
Flour
0.900
KG
---
4. Danish Pastry 
Preparation Method:
Ingredients for 2.4 Kgs  Danish Pastry
Description
Qty
Unit
Flour
1.000
Kg
Gluten
0.030
Kg
Yeast
0.040
Kg
Sugar
0.100
Kg
Salt
0.020
Kg
Melted Butter
0.100
Kg
Eggs
0.10
Kg
Milk
0.50
Ltr
Butter
0.500
Kg
Flour
0.100
Kg
---
5. Croissant 
Preparation Method:
Ingredients for 2.5 Kgs Croissant 
Description
Qty
Unit
Flour
1.000
Kg
Gluten
0.040
Kg
Yeast
0.030
Kg
Sugar
0.086
Kg
Salt
0.015
Kg
Melted Butter
0.100
Kg
Eggs
0.10
Nos
Milk
0.50
Ltr
Butter
0.600
Kg
Flour
0.100
Kg
---
6. Baklava
Preparation Method:
   Ingredients for 1Kg Baklava
Description
Qty
Unit
Walnuts
0.25
KG
Almonds
0.125
KG
Castor Sugar
0.04
KG
Cinnamon Powder
0.005
KG
Clove Powder
0.005
KG
Filo Pastry
0.2
KG
Butter
0.1
KG
Sugar
0.2
KG
Honey
0.03
KG
Cinnamon sticks
0.003
KG
---