Types of Cheese / Category of Cheese - Hotels | Resorts
The cheese is comprised of three main components Water, Fat and Protein. And is produced by separating milk solids by curdling, this causes the proteins in the milk to coagulate. Curdling is normally done by adding selected bacteria or enzyme to the milk.
The curds from the above process are then drained, processed and aged in multiple ways. There are many varieties of cheese depending upon the various cheese processing techniques and the type of milk used for the process. 
The type of cheese or category of cheese is determined by a) The Method of the Crudling process. b) The Type of Milk used (Cow's Milk, Goats Milk, etc.) c) The way curds are cut d) The way curds are drained. e) The way curds are pressed. f) The condition of ageing or ripening the cheese.
Below list shows the Types of Cheese or Category of Cheese:
1) Unripened Cheese:
These are freshly made cheese which is soft in texture and in white colour. Examples of unripened cheese are Cottage cheese, Ricotta, Mozzarella etc.
---
2) Semi-soft Cheese:
Such type of cheese is more developed than the unripened ones. But these also have a soft texture. Examples of semi-soft cheese are Muster, Fontina, Bel paise etc.
---
3) Soft Ripened Cheese:
These are generally ripened from the outside toward the centre. As this type of cheese ages, they become more soften and when fully aged this cheese would be a runny consistency.
Example of soft-ripened cheese is Brie, Camembert, Double creme cheese etc.
---
4) Hard Ripened Cheese: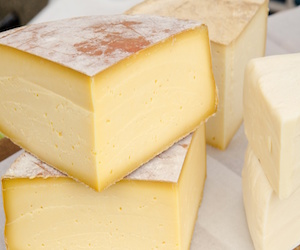 Hard ripened cheese always have a firm texture with flavours varying from mild to sharp depending on their age.
Example of hard ripened cheese is Cheddar, Colby, Domestic Swiss, Monterey jack etc.
---
5) Hard Grating Cheese: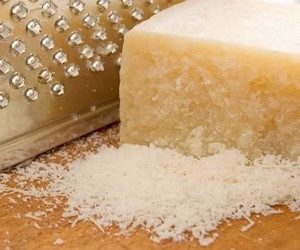 These type of cheese are aged for a long period, normally up to 2 years. They have a strong flavour due to this long ageing process. Such type of cheese is very hard to cut and are normally sold after grating.
Example of hard grating cheese is Parmesan, Parmigiano Reggiano, Dry Jack, Pecorino Romano etc.
---
6) Goat Cheese:
As per the name, these cheese are made from goat's mild and produced in many varieties. It is most popular in France where it is called as 'chevre'.
Unaged goat cheese is very popular which has a white colour, mild flavour and a dry texture to it.
Example of chevre is Montrachet, Bucheron, Chablis, Crottin de Chavignol etc.
---
7) Blue Veined Cheese:
Blue-veined cheese is ripened with cultures of the mould Penicillium. Such cheese is characterized by green, blue or black veins or spots of mould throughout the cheese.
Examples of blue-veined cheese are Roquefort, Gorgonzola, Blue, Stilton etc..
---